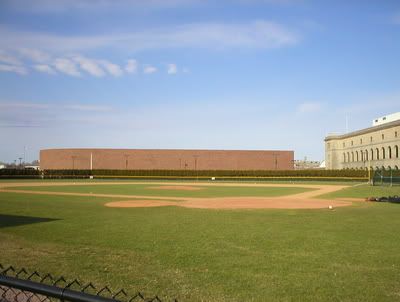 Here, for the benefit of our small but loyal readership, are links to Brian Fallon's excellent scouting reports from the Dartmouth/Princeton matchup in Hanover earlier in the season:
Game One
Game Two
Meanwhile, Cornell is
one game away
from the Gehrig Division title after splitting with Princeton today in Jersey. After the Big Red took game one, Will Venable put the Tigers on his back (4-for-4, two homers, five RBI and a steal, for those of you in Ivy fantasy leagues) and extended their season. Games Three and Four will be played on Sunday. Yes, it takes that long to get to Ithaca. From anywhere.
As for the Crimson, questions abound. Will the rotation be the safe bet (Herrmann and Morgalis tomorrow, Haviland and Castellanos Sunday at home), or will Coach Walsh throw us yet another curve? Will Byrne DH, or will Farkes? Or could Morgan Brown get squeezed out somehow? Will Matt Vance lead off (please yes), or find himself in the sixth spot again for some reason? Wouldn't this be a great time to at least consider batting Ian Wallace second? What will Matt Brunnig do? Is the Big Green anywhere near this bad? (I can answer this one already: No, they are not). Will Dartmouth's Safety and Security Patrols lighten up on the infamous Loudmouth Brigade for Senior Day? Will they even get the chance, with rain forecast for Saturday? Will the fans show up at O'Donnell on Sunday, as they have managed to in what I'd call unusually high numbers all season long? Can Yale keep this a three-horse race going into Sunday? How many moonshots does Schuyler Mann have left in his collegiate career? If Brown and Cornell wind up playing for the Ivy League championship, should we all just start stocking up on canned goods and bottled water now?
Same Bat time, same Bat channel, friends.