Blogger is maintaining its server now. Perfect. Well, you will get this late.
Top 5th
Klimkiewicz lines right to the left fielder. Mann 4-pitch walk. Casey singles up the middle just past a diving shortstop. Wallace strokes another double down the left field line. I can't believe he didn't make the first trip. Mann scores, 2nd and 3rd. 5-2, Harvard. Byrne swings and misses at a 3-2 pitch. Brown flies out to shallow left. And because they're there, a shout-out to Harvard Crimson reporters Rebecca, Alex and Pablo.
Bottom 5th. Coke bottle guy strikes out looking. This is the best I've seen this particular Jason Brown, whose submarine-style arm action isn't a thing of beauty, but has been effective. Nutting takes Brown to a full count and walks. There's action in the bullpen, and a brief meeting on the mound. Haviland appears to be warming. Maher lines out to Salsgiver, who had a shot at another out at first but didn't get much velocity on his throw. Emanuele flyball should've ended the inning but between Salsgiver, Vance and Byrne, no one took command and it fell for a hit, 2nd and 3rd. They'll mark it down as a hit, but just a ghastly play, and Brown has to bear down for at least one more batter. Sidhu thought he walked and throws the bat away, but has to retrieve it. Now he walks for real, and the bases are loaded. Brown gets a HUGE strikeout with what appeared from here to be a high fastball.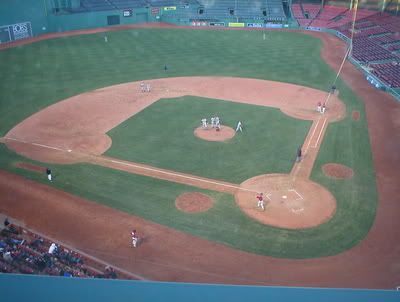 Top 6th.
Vance walks. He's gotten on four times now: 2-for-2, walk, HBP. Salsgiver doubled to center. 2nd and 3rd. Pitching change, Devin Monds in. And, in perhaps a gesture of contempt, they've started just running the Sox game on the Jumbotron during the pitching change. Wilson up. Monds gets Wilson swinging wildly at a couple, but ultimately walks him. Klimkiewicz up with the bases loaded and nobody out. Klimkiewicz skies one to shallow center, out, Vance scores, no other runners advance (nice throw). Mann up. Salsgiver out by three steps at third on a double steal attempt. Wilson to second. Mann strikes out looking.
Bottom 6th
Haviland in to pitch, which I guess makes sense. He wouldn't start an Ivy game until Sunday which, given the weather forecast, will likely be Monday, earliest. Bush walks. Paquette (with no shift this time) strikes out. Coke Boy GIDP.
Top 7th.
Casey 5-3.Wallace hit in the head. Byrne strikes out swinging. Brown grounds out. The Fenway organist plays "Take Me Out to the Ballgame." I wonder if they're charging the schools for it.
Bottom 7th.
Morizio flies out to right. Nutting walks. Maher dribbler up the third base line gets by Wilson, second and third with one out. Emanuele flies out to deep right, run scores, other guy to third. Sidhu strikes out swinging.
Top 8th:
Vance grounds to short. Salsgiver legs out a grounder. Salsgiver to second, Wilson makes no contact on hit and run, but ball pops out of 2B's glove. Wilson grounds to short, 6-3, Salsgiver to third. Double-barrelled action in the Harvard bullpen. Klimkiewicz (whose name has been pronounced correctly the last few at-bats) singles to left, Salsgiver scores, 7-3. Mann grounds out.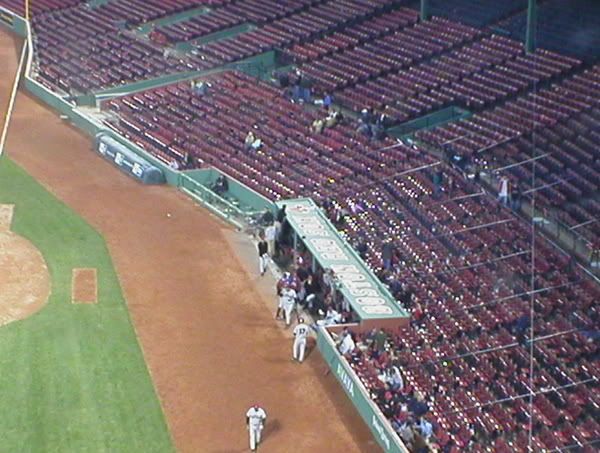 Bottom 8th: Brunnig in to pitch (lefty), as two relievers throw lightly in the pen. Sweet Caroline plays. Five people assembled go "Oh oh oh." Heriot out, Bush flies out to right. Paquette strikes out.
Top 9th:
Casey grounds to short.Wallace grounds out. Farkes pinch hits for Byrne, flies out.
Bottom 9th:
This would be Joe Walsh's first true Beanpot victory, having been a co-champion once when a final with UMass was rained out. He must really want it, as here comes Frank Herrmann. The PA guy pronounces it, "Her-MAHN." Anyway, Herrmann gets the job done, and a borderline unceremonious awards ceremony lands Harvard the coveted Beanpot trophy. Celebration pictures to come.