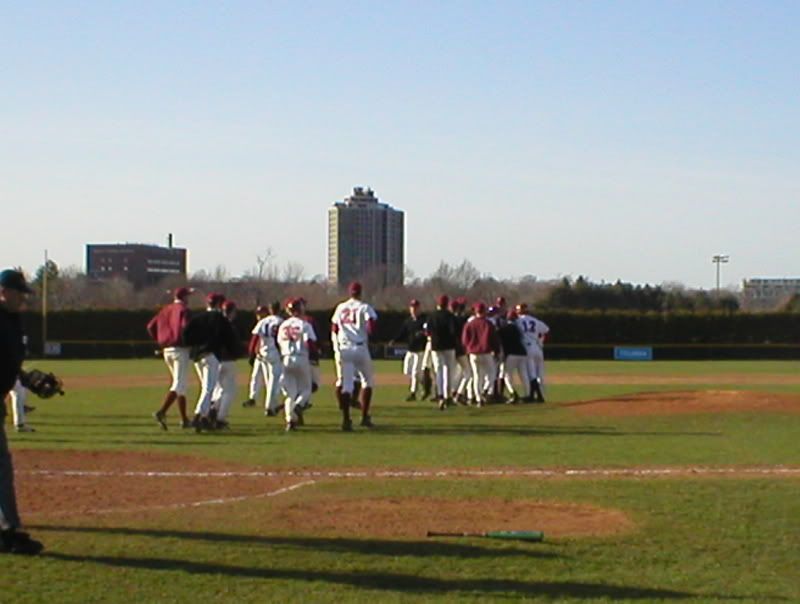 This is how an interesting day for Schuyler Mann ended.
He was moved to seventh in the order. Coach Walsh noted after the game, "He really hadn't been hitting the ball, even in BP before the games this morning... But sometimes you just need that one hit, and the next thing you know you're back up there next time up like, 'Bring it on.'" That one hit would come with the bases loaded in the 8th and Harvard down 4-0. That one hit tied the game, and the Crimson wound up taking a 5-4 lead into the ninth.
Mann then watched a Steffan Wilson curveball get by him in the top of the ninth, allowing the tying run to score from third.
But Mann got it back in the bottom of the inning. After Taylor Meehan's two-out single, Mann saw yet another Bulldog reliever and another fastball. This one didn't go out (although it looked like it would), but it made it 410 of the (conservatively listed) 415 feet to center, and Meehan came around to score easily. And that was your ballgame, final score
Harvard 6, Yale 5.
Meanwhile, in an interesting development in Hanover,
Brown swept Dartmouth
today, including an thrashing of preseason pitcher of the year Josh Faiola.
Jake Bruton
, not Matt Brunnig as listed, will start against Yale in the early game tomorrow.