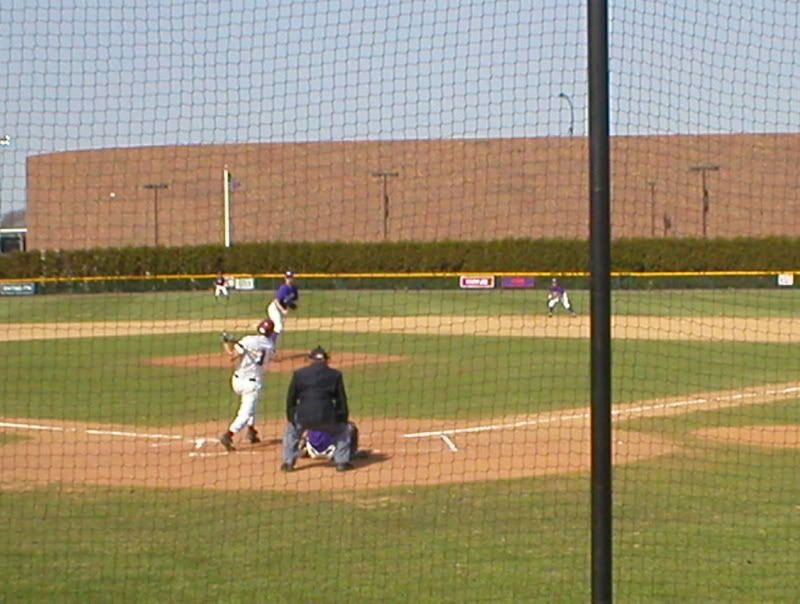 Freshman Matt Vance doubled [above] to left to start things off for the Crimson, but there
wouldn't be many more hits
for the Crimson as a mishmosh of Holy Cross pitchers never allowed a Crimson baserunner to get as far as third.
Jake Bruton pitched what Joe Walsh called his best game as a Harvard pitcher, and I doubt anyone would dispute it. I missed his last two innings (as I did all of Shawn Haviland's surprise appearance), but considering that one of the three hits he gave up was a Brendan Akashian bunt single that Walsh and a
very
vocal Gary Donovan insisted Akashian had "kicked about halfway up" the third base line and the other two were also infield hit, it says something about how on he was.
Haviland again I missed (had to duck out to go to class), but The Crimson's Tim McGinn said that his curveball looked filthy. He also was poised: he came into a scoreless tie with two on and one out and promptly picked off the lead runner at second.
Matt Brunnig's appearance in the 14th was as a lefty to face the left hander Aldrich, and he was subsequently pulled for righty Morgan Brown (first mound appearance of the year), who gave up the game-winning single.
Having played five games in three days immediately after the chock-full spring break and had even the odd
unnecessary bus ride
, the Crimson mercifully gets a couple days off before this weekend's home doubleheaders against Cornell and Princeton.