Harvard beat the Quinnipiac Bobcats today,
8-5
, thanks largely to Schuyler Mann's 3-run homer in the eighth off the last of the Bobcats' 8 pitchers. This marks the last game before exams, and possibly the last game before the NCAAs, although the team will try to squeeze something in Memorial Day weekend (at this point, possibly against the
Aggies
of NCAA-bound North Carolina A&T at a neutral site). We'll keep an eye on that one for you.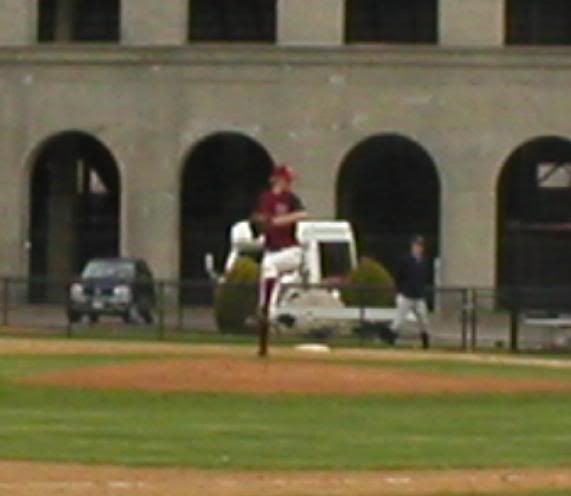 Morgalis (started, threw 2 innings including an 8-pitch second), Haviland, Herrmann and Javy Castellanos all got in some work, but the key development on the mound today was the return of Matt Brunnig, who threw the final two innings and had his most substantial outing since the Yale series. Coach Walsh, perhaps somewhat surprisingly given Brunnig's inconsistent availability throughout the season and indeed his career, sees Brunnig as somewhat whom he would need to potentially start for Harvard to go deep into the postseason. "There's a point where you get past those first games and you look down your bench and you have to have someone that talented available to pitch a third or fourth game," Walsh said of the junior, who had been clocked at 92 earlier in the season but who has seen his role change throughout the season from closer to spot middle reliever to, at points, non-factor due to injury issues that, from Walsh's vantage point, remain somewhat unclear.
Mann's home run ties him with Zak Farkes atop the Crimson career lead (27) and Josh Klimkiewicz for the season lead (9).