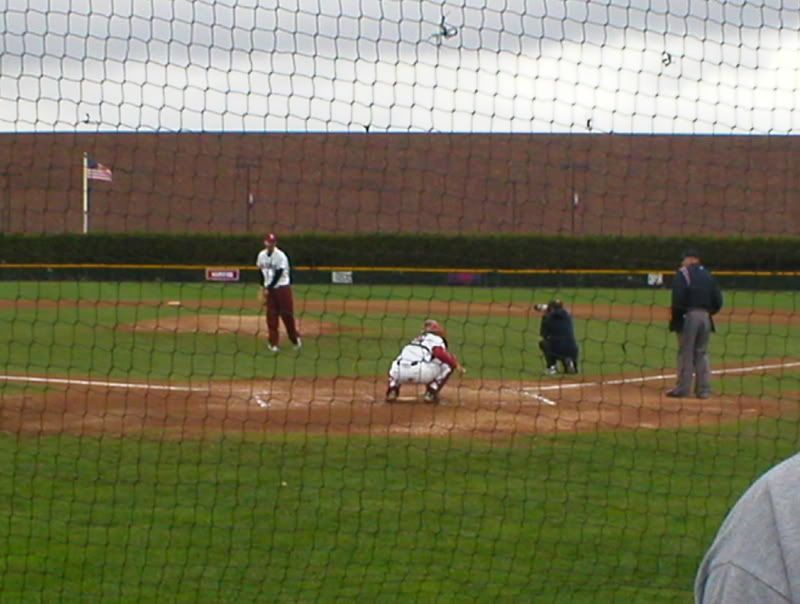 This was the best pitch thrown all day. Almost literally. After the national anthem played, Joe Walsh got on the PA and said something along the lines of the following:
"I wanna call Number 28 out to the mound for a ceremonial first pitch. Number 28, get out there... At the beginning of the year, the coaching staff, we thought we had a big left hander to do battle in the Ivy Leagues. But he had his own battle to fight. A battle against cancer. Making his triumphant return to O'Donnell Field after beating cancer, Number 28, Wes Cosgriff."
The rest of the day was a blur of
comebacks
and
more bizarre comebacks
. A few odd points:
1. Why did Zak Farkes play centerfield, swapping with Matt Vance, for the second game? No idea. Farkes played a very good first game, and Vance, the shortstop-apparent for 2006-on, had several tough balls hit to him in the second that he did a good job even though some will show up in the boxscore as singles.
2. That Harvard could take both games on a day when neither starting pitcher had anything close to their best stuff says a lot about how well the Crimson's been hitting the ball. And about the kind of can't-catch-a-break season it's been for Dartmouth.
3. Dartmouth's idiot brigade of hecklers consisted of about 7 or so people today. Aside from inexplicably heckling Rob Nelson (not a factor in either game) the whole day, nothing they did was funny.
4. Neither Schuyler Mann homer even touched the trees. Bombs.
5. Morgan Brown has missed the last few games with illness. No injury or anything there.
6. Sidearming sophomore Jason Brown pitched in both games, and looked particularly good yet again. Count me among the observers who thought he was removed an out too soon.
7. Steven Perry threw at least 120 pitches out there before being removed for Peay. He was hit pretty well, but his velocity stayed pretty high, and I admire his grit.
8. At least five scouts were around today, presumably for Faiola, but they also clocked Perry and Salsgiver. Salsgiver was clocked around 90.
9. The Wheeler homer to left was the biggest of the day, and perhaps the biggest hit of the year.
10. Who starts tomorrow? Haviland gets the one game, but the other is a question mark. Considering that he threw a lot of pitches today in his 1 inning plus (probably more than Walsh had bargained for), and considering arm trouble kept him from possibly starting one of the games last week, I doubt he pitches tomorrow, as had been discussed in some circles. Castellanos pitched in the cancelled game (a start not without meaning, as it probably removed Dartmouth's Wilkerson from the equation for tomorrow). I expect a patented Joe Walsh hodgepodge, with generous amounts of Jake Bruton, Brad Unger and perhaps Steffan Wilson as circumstances allow.
11. For that reason, and many others, winning the first game is exceedingly important. You don't want any piece of a one-game playoff if you can avoid it.
12. The League Championship Series will be played at the Rolfe Division winner (record). The League moved away from alternating hosts by division recently, and both Brown and Harvard have better records than Cornell.