Above photo courtesy of Friends of Harvard Baseball
The Harvard baseball team won the second game, 4-2, to sweep the Ivy League Championship Series 2-0 and win its first league championship since 2002. Fittingly, Ian Wallace raced out to the warning track to catch the final ball, setting off this celebration in the infield.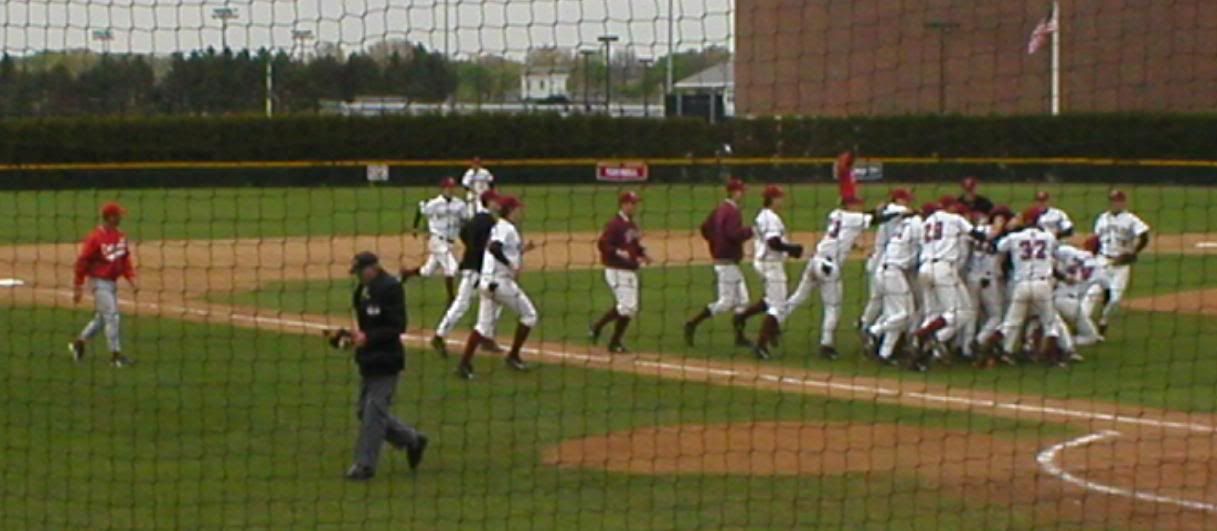 Freshman Shawn Haviland pitched a brilliant clinching game. According to Coach Walsh, the nod went to Haviland today because Mike Morgalis has been absolutely lights out those few times when he's gotten more than the standard week's rest, and he wanted to give him the extra day. (Walsh also, unprompted, committed to starting Morgalis in Game One of the NCAA Regional).
Senior Rob Wheeler continued his recent and incredibly timely string of clutch hits, answering with a single up the middle shortly after Cornell had ended its 19 inning scoreless streak.
Hats off to the Cornell Big Red, who play the game well and in a manner not unlike the previous string of Harvard championship teams. Unfortunately for them, Harvard reached back into its not-so-recent past and played the exact same game, only better, enabled to do so by its deeper lineup. (Zark Farkes' bunt for the Crimson in their breakthrough inning was enabled by the reality of Mann, Wilson and Wheeler lying in wait in the on deck circle and on the bench.) Not one ball, as it turned out, left the park today, but it didn't matter. "It was nice to win a couple on pitching a defense for a change," Walsh said after the game and moments before being bathed in Gatorade.
It was odd in a way to see someone other than Princeton there for the conference title, but Walsh felt otherwise. "I'm actually surprised some years when Princeton's there," he said after the game. "This is a good team, and they play the right way. I've said that there are two coaches in this league who
really
know who to coach games well, and [Cornell's Tom Ford] is one of them." With a sly grin, he added, "And I'm not the other one."
That may be, but a lot of things went right for Walsh and the Crimson this year. Identifying Frank Herrmann as the frontline starter from Day One was one of them. Morgan Brown as the starting shortstop from Day One was another (Brown fielded a league high 29 double plays, and Walsh provided some insight as to his Second Team All-Ivy status today. "I told the other guys when we were deciding, 'Morgan Brown is my MVP. So you can take that .278 average and throw it out the window.'") Ian Wallace's re-entry into the lineup was another move that worked out. Wallace didn't make the team's opening weekend trip to Minnesota. But when he did start playing, he never stopped hitting. Walsh eventually opted not to go with the lefty bat in Chris Mackey and put Wallace in left field, and Wallace responded by batting .324 and, as Faiz noted in response to the previous entry, coming up huge in Game One of the ILCS. Lance Salsgiver, he of patience and versatility, was bumped around the lineup more times than he probably cares to remember, but produced in every spot. Brendan Byrne proved a revelation at the plate after hockey season wrapped up. Rob Wheeler had his finest season and settled in well as the DH, coming up with huge hits in the last few Ivy Games. Schuyler Mann got absurdly hot in the second half, as is his custom. The entire freshman class panned out. And so on.
Former Harvard catcher Brian Lentz once referred to the Farkes/Klimkiewicz/Salsgiver/Brown class as a group that was going to "win some championships." The possibility within that plural remains alive today. And now comes the chance for a different sort of Harvard baseball team to enter the spotlight of NCAA Regional play. Brian Fallon has noted on several occasions that this is "not your father's Joe Walsh team." And he's right. They can play that way on some occasions, as they did today, but they're not. They're bigger. They're more prone to make mistakes in the field, but far more likely to them all with a big at-bat. They play for the big inning, and they're hoping for the one big inning against a Florida or an Arkansas to bring them to the Super Regionals one of these years, to the uncharted territory a small but loyal generation of Harvard players and fans has hoped for...
"That's the expectation level... I think it would be one of the greatest accomplishments in college baseball—in a sport that is so dominated by scholarships—that we could get there someday. … I think it would be a great story, seeing a school like Harvard, a Northeast school, all the things stacked against you…"
In three weeks, Harvard baseball will get that chance again. In the meantime, there is this victory to celebrate, and no one should diminish that. And there are other victories that no one can diminish.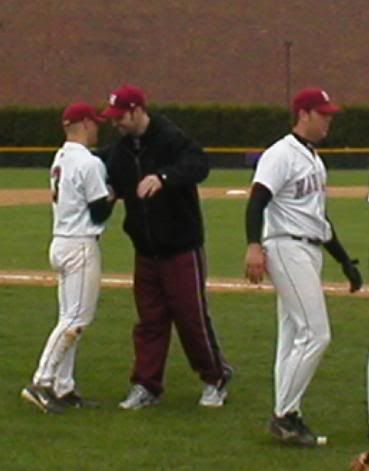 Wes Cosgriff (center) embraces Zak Farkes after Game Two.