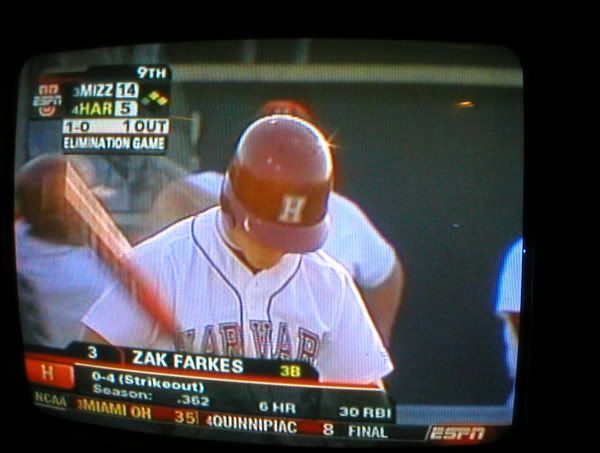 The Harvard Crimson reports in its Friday edition that Zak Farkes
forgoes his last year of NCAA eligibility
to sign with the Red Sox, the team that drafted him last year:
TROY, N.Y.—Zak Farkes has always known just what kind of career he wants. From his childhood watching the Boston Red Sox at Fenway Park through his years as a slugging infielder for the Harvard baseball team, Farkes has had the goal of playing baseball for a living.
Although various setbacks threatened to deny that dream, Farkes fulfilled his lifetime desire July 2 by signing a professional contract as a non-drafted free agent with his hometown Red Sox. Foregoing his senior season of baseball eligibility at Harvard, Farkes is embarking on what he hopes will be a long professional journey.

"What I want to do in my life is be a pro baseball player," Farkes said before his new team, the Lowell (Mass.) Spinners, played Tuesday night. "A Harvard degree will help me out in the future, but my first commitment was to baseball."

That commitment began last Sunday evening in Troy, N.Y. After signing the previous day—a contract that he negotiated with the team himself—Farkes was assigned to the Spinners of the New York-Pennsylvania League, a class-A franchise.

Farkes joined his new team just in time to catch the bus to Bruno Stadium, where Lowell was taking on the Tri-City ValleyCats, a minor league affiliate of the Houston Astros. He was barely settled before learning Spinners' manager Luis Alicea had penciled him into the starting lineup at second base, the position where the Red Sox have told Farkes he'll get the majority of his playing time.

We'll have more on this story.